Outline
Torque and Angular Transmission Characteristics of Micro Guidewire Tip Operability Assessment of Guidewire or PTCA (Percutaneous Transluminal Coronary Angioplasty).
PT-8000G consists of the inside sensor and the outside sensor. The inside sensor rotates the one edge of guidewire in specified condition. The outside sensor measures the angles or the torque of the other edge of guidewire.
The inside sensor consists of AC servo motor and torque sensor.
The outside sensor consists of the non-contact type encoder for the transmission goniometry and road cell for the torque detection for tip torque measurement.
Using an air bearing to support the axis of measurement sensor, the outside sensor can measure the angle or torque without loss.
Data sampling / analysis and graphic processing can be performed using special software. Measured data can be saved in the CPU memory and can be re-displayed later.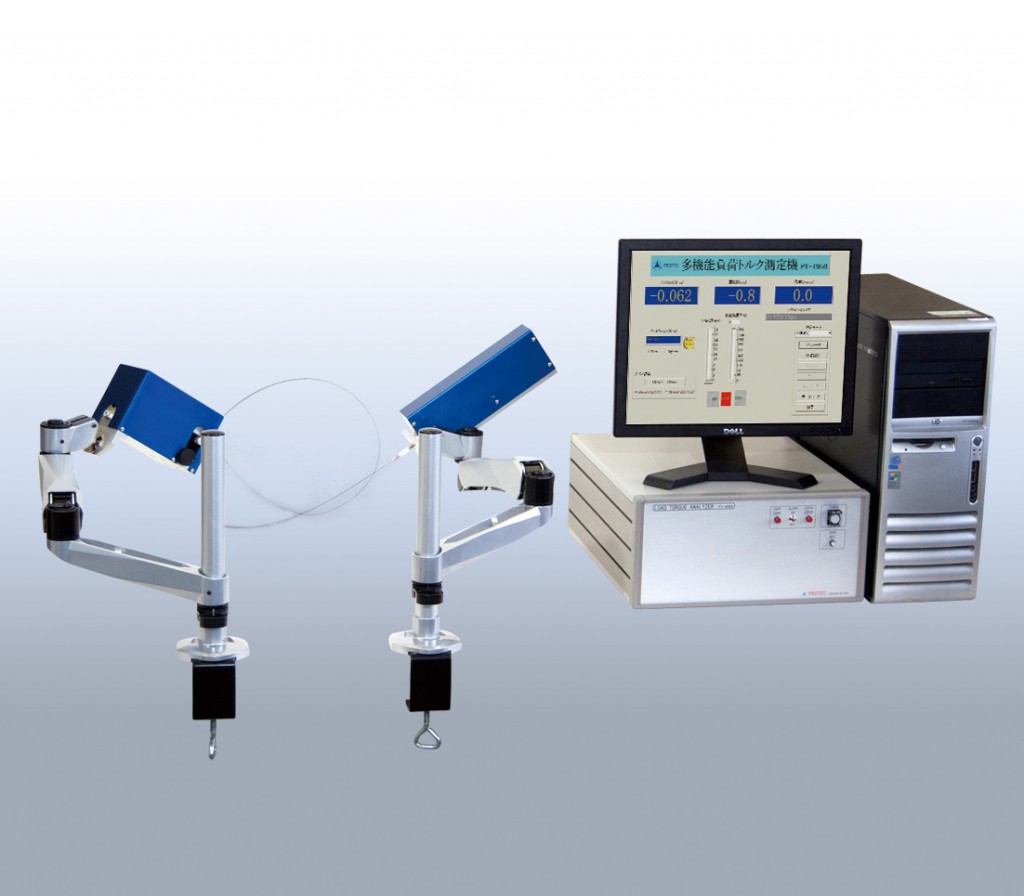 PT-8000G+Torquesensor+PC
Configuration
Feature
● Measure minute torque at the tip without loss.
● A dedicated panel on the monitor shows the torque, rotational speed,
and angle. You can also set the rotational speed, and start/stop operations
manually through this panel.
● Select the Parameterbutton from the menu to the right of the chart on
the main menu to open the parameter number selection window.
Up to 100 parameter numbers can be registered.
● Display the measurement graph in real time. Measurements are performed
at a specified interval.
● Measured data is saved as a CSV file in text format.
Specification
Specification
Rated Torque
1mNm (resolution:0.01mN)
Torque Accuracy
±1%
Positional Accuracy
±0.1°
Test Items
Torque, Rotational Speed, Angle
Computer
PC/AT Compatible
Windows
Windows
Power Supply
AC100V±10% 50/60Hz
Option
● Chack
It is a part for connecting a guide wire and a sensor.
Inside
Dimensions
Wire diameter(mm)
0.1~0.6
0.4~0.9
0.6~1.2
1.2~1.8
1.8~2.4
2.4~4.0
Material
Matal
Resin
Outside
Dimensions
Wire diamenter(mm)
0.1~0.6
0.4~0.9
0.6~1.2
1.2~1.8
1.8~2.4
2.4~4.0
Material
Metal
Resin
● Template
It is a simulated blood vessel model for measuring mechanical properties.
Reference source
ASTM F 2394-07
x2.2~x2.3
ASTM F 2394-07
x2.4
Use
Catheter
Guidewire
Dimensions
Size
W420mm×D240mm
W190mm×D144mm
● Satand
It is a frame for fixing measurement templates and sensors.
Horizontal type
Small size
Large size/th>
Dimensions
Size
W630mm×D410mm×H270mm
W936mm×D486mm×H327mm
(W1240mm×D724mm×H327mm)
| | Vertical |
| --- | --- |
| Dimensions | |
| Size | W936mm×D520mm×H995mm |